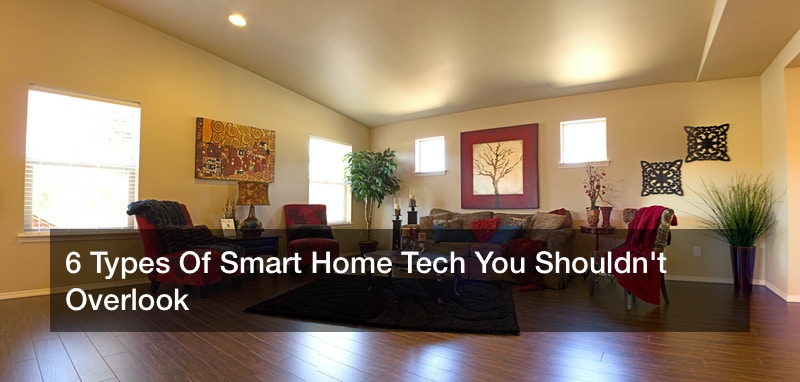 For many Americans, it's no longer enough to have a home; it's now necessary to have a smart home. Where just a couple of decades ago smart home technology seemed like a far off idea, it's now something that people have come to expect and plan for, whether they're pursuing new home construction projects or renovating and updating an older home. Why has smart home technology progressed so quickly? Much of it has to do with the rise and domination of the internet in our lives. Right now, over 3.8 billion people use the internet. This accounts for 40% of the world's population. We use our laptops to communicate with friends and family, to game and pursue creative projects, and even to work. Our smart homes have progressed to the point that they are essentially small, handheld computers. One of the reasons why people love the idea of incorporating smart technology is that it can make your home much more convenient, while at the same time cutting down on hardware in the home. You can essentially update your house without including a number of heavy new gadgets. The best smart home tech also is much easier to maintain and, if issues do arise, fix compared to the types of hardware that we typically keep within the home.
Of course, not every piece of smart home technology is something that you would want to have installed within your home. Some types of technology are so new that they're still in the experimental stages, and therefore are prone to failures. Others can be difficult to really apply the way you want to, while some are simply complete wastes of time and money. This is why a lot of people have hard time deciding what types of smart home technology are really worth the money. While some are more affordable than others, in general smart home technology isn't cheap, which is why you need to consider not only the quality of the piece, but whether or not you'll actually use it. Don't invest in a piece of smart home technology if it's not something that you'll really use on a regular basis. For that matter, listen to your custom home builders or the contractors renovating your home; if they feel that a piece of technology is not a good match for your home's layout, they'll likely recommend that you consider other options. Even if you're in the midst of renovations, however, you may be surprised by how many pieces of technology you can add to your house. With that being said, let's explore some of the best smart home tech on the market!
1. Brilliant Control
When looking up the best smart home tech available, you'll probably be overwhelmed initially, and with good reason. There are so many options, and how do you know what will work well together? After all, there are a lot of different brands working with one another. Oftentimes, these brands can clash. You may want one device to work within your refrigerator, while another will work elsewhere in your kitchen. However, if these are of different brands they may not interact well. Before you jump to asking your electrician if there is any way that they can help you solve this issue, you should consider seeking out the Brilliant Control.
The Brilliant Control helps solve this issue by acting as a kind of connective device. It connects to your WiFi, and then essentially controls the different devices within the house together. The great thing about this technology is that it offers a touch-screen, which will allow you to log in and control your music and thermostat, as well as security-related apps and more. It has a voice-activated Amazon Alexa system, which allows it to act as an Echo in most senses. It also works with other smart tech systems like the Ecobee, Ring, Nest, Philips Hue, and Sonos systems. Although it's a little expensive, this device can make the best smart home tech even more convenient than it already was.
2. Samsung SmartThings WiFi Smart Plug
Although its title is a bit of a mouthful, the Samsung SmartThings Wifi Smart Plug solves a problem that a lot of people face: how do I make my home more smart tech-enabled without spending a lot of money? It's true that if you're already spending money on other renovations or simply building a new home, you may not want to plunge fully into smart home technology. As mentioned before, smart tech, especially the best smart home tech, is usually a bit expensive. The Smart Plug is meant to solve that problem. After all, the purpose behind most of the best technology is meant to solve some kind of problem.
The Smart Plug is essentially meant to turn non-connected devices into smart devices, and it usually comes in at less than $20. While it might not be quite as convenient as simply installing a smart device, it's definitely a budget-friendly option and incorporates many of the more advanced options offered by more expensive wifi-plug devices. It offers power usage reports, voice control, and even flexible scheduling. IFTT tablets are supported by the Smart Plug, and if you pair it with a SmartThings hub you can actually make it compatible with even more user-friendly than it already was.
3. Nest Learning Thermostat
When having your home air conditioner installed, you may find yourself wishing that you could make your heating and cooling system more personalized to your exact needs. Air conditioning can be the bane of a homeowner's existence, as you often end up spending more money on your heating and cooling systems than you expected simply because your system isn't as optimized as it could be. Fortunately, you can actually solve this problem by turning to smart home tech. There are plenty of different smart heating and cooling devices on the market, but some are definitely preferable to others. The Nest Learning Thermostat is actually a lot more personalized than people think. You may overlook it at first because it's been on the market longer than some other smart home tech thermostats, but don't let yourself get distracted by some fancier-looking gadgets.
The newest version of the Nest Learning Thermostat should be a part of any residential AC installation process. With its larger display, it's easy to use and doesn't have the same kind of learning curve as a lot of other heating and cooling systems. It has a few more sensors as well, compared to older versions, and also has a furnace monitor and geofencing support. Of course, the classic, most appealing features of the Nest Learning Thermostat are still present: you can connect your thermostat to your smart phone or tablet, and control it remotely that way. This makes it a lot easier for you to save money on heating and cooling while you're away from home, while at the same time making sure that it cools down before you get back. If you're on a budget, have no fear. The Nest Learning Thermostat offers the Thermostat E, which is a more affordable version that offers many of the same features, and should also make any list of the best smart home tech devices.
4. AmazonBasics Microwave
Whenever you're handling kitchen renovations, you'll want to include a microwave, of course. Why not make it a smart home-friendly microwave? Most smart kitchen devices will be smart home-enabled by linking to a tablet or phone, using an app. However, the AmazonBasics Microwave is actually a bit more exciting in that it combines everything you want from a traditional microwave, while at the same time simply making it easier to use. It doesn't even up the price all that much, usually landing around the $60 mark.
The AmazonBasics Microwave is voice-enabled, meaning that you don't have to bother messing with all of the buttons that you normally work with on a regular microwave. With that being said, you do need to use an Echo device to fully enable this functionality. However, as it's much less expensive than many of the other smart devices you can add to your kitchen, it's really one of the best options available. Furthermore, if you're looking at many of the different types of the best smart home tech, you'll probably already be considering an Echo.
5. Smart Toilets
There are many different options when it comes to smart toilets, and with good reason; you may want to talk to your plumbing service provider to find out which one would best work with your home. The great thing about a smart toilet is that they're often motion-activated, much like some of the toilets that you would find in more updated public bathrooms. This means that you don't have to touch as much, which encourages further cleanliness; of course, this is something that everyone is aware of in a post-pandemic world.
There are other additions you can make to smart toilets as well. For example, voice-activated bidets are also on the market. While bidets are incredibly commonplace and even expected in European countries, they aren't as common in the United States. This means that many people find themselves surprised by bidets that are installed in American toilets. Voice-activation makes it a bit more user-friendly, and simply more palatable.
6. Home Security Systems
Again, it's almost impossible to mention a singular brand when it comes to this type of smart home technology. Many of the most popular brands within the best smart home tech are in fact security-related, largely because this is one of the most important problems that smart home technology solves. A lot of people simply don't feel secure in their homes, but also feel concerned about how little control they have over their own security systems. This is why they've turned apps like Ring, which allows people to monitor their home security cameras through an app. You can also control your garage doors through apps, ensuring that they're properly locked on your phone even when you're far away. There's a convenience factor to all of this as well, because you're able to make a lot of the commands necessary for controlling your home security systems by voice.
Another factor you should consider is ramping up your privacy through smart home technology. Voice-activated or app-activated shades allow you to not only control your privacy, but also change the comfort levels of your home. You may want to sleep in a bit on the weekends, and having voice-activated heavy shades that shut out lights make that all the easier. You essentially get two benefits for the price of one through voice-activated shades. All of this being said, you need to make sure that the smart home security devices you use aren't overly sensitive. The last thing you want is to have an alarm triggered simply because you didn't say a command in the right tone when you get home! The best smart home tech is easy to use, without being easily set off in a bad sense.
Smart home technology is constantly evolving, and the facts are that a lot of the versions that we buy will probably be somewhat outpaced by newer versions within a few years, if not sooner. You can compare it to how newer versions of your smartphone are often released not long after you buy yours. That doesn't mean that the version you have is obsolete or lesser, however. The best smart home tech will last quite a while, and handle all of your needs until you feel like updating.
With that being said, look out for new benefits in the future, like smart home devices that link to solar power, and smart home technology that is not only voice-activated, but activated by your face. Some of these features are already available on the market, depending on the brands that you end up going with. If you're in the midst of renovations or a custom build, don't hesitate to look into smart home tech!