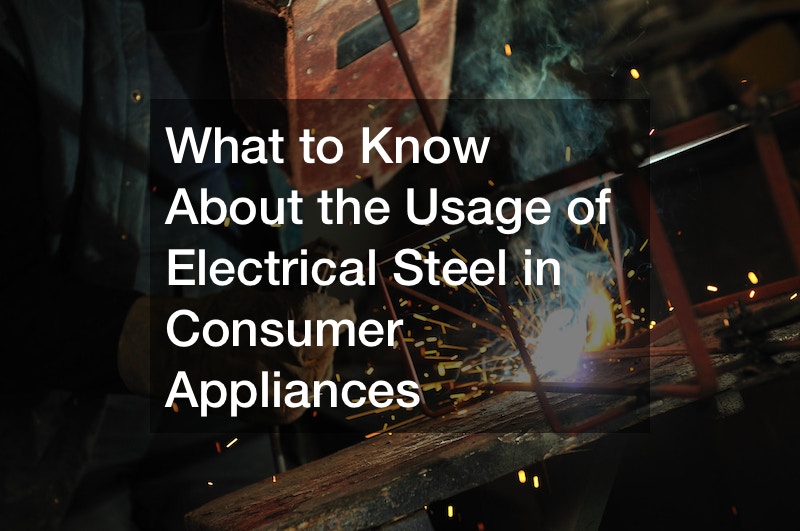 Have you ever wondered about the type of materials used to manufacture your refrigerator, ac, and other appliances? How about power generators and transformers? One of the most important components of these appliances is electrical steel. In this article, we tell you what you need to know about the usage of electrical steel in consumer appliances. The next time you're checking or reviewing electrical steel suppliers in your city or state, you'll know exactly what you're looking for.
What is Electrical Steel?
Electrical steel is a specialty type of steel. It is also known as lamination steel, e-steel, transformer steel, relay steel, silicon steel, or silicon electrical steel. This type of steel reduces power loss, and that's why it's used in the manufacture of electromagnetic devices such as transformers, generators, and motors.
Electrical steel is mainly available in cold-rolled strips. If you visit the websites of major electrical suppliers, you'll see these strips on display. You'll also see these strips in trade show displays for electrical materials. When these strips are piled together, they create a core.
Electrical steel can be segmented into two – grain-oriented and non-grain oriented electrical steel. The main difference between the two is the magnetization direction. Grain-oriented electrical steel has optimal properties that are developed in all directions and typically has a silicon level of 3%. Non-oriented steel has magnetic properties in all directions and has a silicon level of 2 to 3.5%.
The Electrical Steel Market
According to Precedence Research, the global electrical steel market size was USD 38.2 billion in 2021 and is projected to rise to USD 71.5 by 2030. Although the Covid 19 pandemic negatively affected the market through the disruptions of operations in manufacturing plants, the demand is peaking. The demand is also due to the US government's focus on energy efficiency.
This rising demand has seen rises in the production of these manufacturing materials by electrical steel suppliers. The product aims to meet the high demand for electrical steel and other metal supplies in the manufacturing of generators, motors, transformers, and other electrical components. The demand for electrical steel is also driven by the push to reduce CO2 emissions.
The global electrical steel market can be divided into three categories based on type, region, and application. Based on type, the market is divided into grain-oriented and non-grain-oriented electrical steel. The application of electrical steel is divided into generators, motors, transformers, and others. Segmentation by region divides the market into North America, Asia-Pacific, Europe, and LAMEA. When analyzing major electrical steel suppliers, they can also be analyzed based on these regions.
Further analysis of segmentation by region is key to understanding the distribution of the demand and use of electrical steel in the markets. Asia-Pacific is set to be the fastest-growing market – by volume and revenue. This means more production by electrical steel suppliers in these regions as well as the production of components that use this type of steel. Enough or surplus production will ensure ready materials for manufacturing, further pushing business growth of electrical appliances in this region. In addition, this region has the largest market for power transformers.
The US market for electrical steel was valued at USD 3.7 billion in July 2022. The value is expected to exceed USD 7.3 billion by 2032. Grain-oriented electrical steel accounts for 52.8% of the overall market. The West of the United States together with the South-West U.S. holds 48.1% of the U.S. market. Disruptions in the supply chain are some of the major causes that temporarily destabilize the electrical steel market.
Consumer Appliance Industry
Electrical steel has broad applications. It is used in the automotive, energy, manufacturing, and household appliance industries. It is also used in other industries such as construction and steel fabrication.
The demand for consumer appliances made of electrical steel has also pushed the demand for the product across the US and the globe. Major electrical steel suppliers in the United States strive to produce enough to meet the demand for the production of various types of household appliances. The global consumer appliances market is projected to hit USD 539.9 billion by the end of 2029. In 2021, the consumer appliances market registered a value of USD 383.8 billion.
Growth in this market is driven by consumers' preferences for smart and innovative products. Furthermore, an increase in living standards has increased the demand for home appliances and consumer electronics.
Some of the most popular electrical appliances include refrigerators, washing machines, vacuum cleaners, tumble dryers, toasters, bread makers, steam mops, wine coolers, juicers, fans, heaters, and air conditioners. Please note that not all of these appliances use electrical steel. This is a general overview of the consumer electrical appliances market.
There have been debates on whether the rise of the internet of things will have a major impact on the demand for electrical steel. It is obvious that as long as electromagnetic components are a necessary part of these smart appliances, then we will see more demand for electrical steel.
How Electrical Steel Is Used to Make Electronic Components
Before understanding how electrical steel is used in the manufacture of electrical components, you need to first know that it is an alloy. Electrical steel contains 0 to 6.5% silicon. Electrical steel suppliers play with variations in the concentration of silicon when alloying to produce the preferred output. The silicon plays a significant role in lowering the core loss by 3 times compared to normal steel.
It is the high permeability, high frequency, and magnetic properties of electrical steel that make it a desirable material in the application of domestic and non-domestic appliances. In addition, electrical steel is cost-effective, provides better performance than conventional steel, and is familiar among manufacturers of household electrical appliances. It is also of premium quality.
Some form of engraving may be involved in the manufacture of electrical appliances. This is done to produce specific designs or labeling. Good examples of these products include control panels and legend plates.
As you have already gathered by now, some of the major applications of electrical steel are in the production of transformers, generators, motors, and refrigerators. The unique characteristics of electrical steel make it the preferred material for producing these products. Any electromagnetic device is expected to have better performance if it's made of electrical steel. Whether you purchased your refrigerator as a brand-new product or a used one through a pawn shop, you should know that electrical steel is one of the major components of the machine.
Major Benefits
Steel, even before it undergoes an alloying process conducted by electrical steel suppliers, is the preferred choice in the production of household appliances. Steel is known to be strong and durable, coming in different material shapes and thicknesses as well. Therefore, electrical steel reinforces these benefits. This is why your home appliances that operate on rotating parts like washing machines and clothes dryers are made of electrical steel.
One of the biggest benefits that come with the use of electrical steel is energy efficiency. The use of this type of steel couldn't come at a better time when almost all national governments across the globe are emphasizing energy efficiency and reduction in the emission of CO2.
The next time you're going shopping for your home or office appliances, look at the energy star rating. Energy efficiency doesn't only mean you'll be saving on energy costs, it's also better for the environment. You don't want to use a printer that consumes a high amount of electricity every time you're printing documents in your office or a refrigerator that eats into your energy bills.
Electrical steel, as a major component in the production of power generators and transformers, plays an essential role in the electrification process. The availability of this material means that there will be enough transformers and generators for more people to be connected to the grid.
Steel is generally durable, strong, and corrosive resistant. These are desirable characteristics for any manufacturer who wants to produce efficient and long-lasting electrical appliances, whether for home or office use. With the addition of silicon in steel to make electrical steel, the end products stand to have better performance than products manufactured with conventional steel.
Key Electrical Steel Manufacturers
The rising demand for electrical steel means that it is a lucrative industry that might see an increase in the number of electrical steel suppliers globally. However, some dominant players already exist and can quickly boost their production to meet surges in the demand. Key global electrical steel manufacturers include China Baowu Steel Group, Tata Steel Limited, ArcelorMittal S.A., Nippon Steel Corporation, State Authority of India Limited, and United States Steel Corporation. These companies are not like the ordinary or local bolt and nut supplier. These are companies that produce electrical steel on a large scale, including for exportation purposes.
These are major corporations with well-established plants and distribution channels for electrical steel. One of the important facilities you'll find in these companies is a steel foundry, which is used to cast metals into various forms. Ideally, these companies diversify their production processes to meet the different needs of their clients.
The rising demand for electrical motors in the commercial, industrial, and residential sectors is also pushing the demand for the manufacturing of electrical steel. This is because electrical steel is commonly used in making motors with higher magnetic flux and torque. In addition, electrical steel is the preferred steel in the production of power generators with low CO2 emissions and improved electromagnetic characteristics.
As you would have noticed, the major manufacturers are mostly located in North America, Asia, and Europe. This is because of the already existing large market for electrical steel, although a significant portion of their supply is also exported to other countries. The global supply chain is an important component in ensuring the smooth supply of these materials for the production of power generators, transformers, and specific types of household appliances.
Improving Performance
Although electrical steel has already been hailed in this article, the alloy still has room for improvement. Researchers are looking into ways in which the performance of the metal can be improved as a way of boosting global electrification in the coming decades.
The well-defined magnetic properties of electrical steels give them an advantage over other types of materials and are the basis of their use in power and distribution transformers, electric motors, and electricity generators. These are essential electrification technologies that depend on electrical steel for optimum performance. Innovations have led to the development of specific types of electrical steels that lower core loss during the energy transformation process by 30%.
With the varied applications of electrical steel, its improved performance is set to have positive ripple effects on end users, as well as on the environment. Improvement in the performance of the material may also be driven by changing demands of the end user.
Safety
Safety in the use of electrical steel must start in its production process. Like any other manufacturing process, various measures must be taken to ensure a safe production process. All electrical steel suppliers must comply with relevant regulations to ensure the safety of all personnel involved in the production of electrical steel.
The suppliers must also provide a safety data sheet that indicates possible hazards, composition or ingredients, handling and storage, fire fighting measures, and any first aid measures recommended.
As a cautious user of electronic components, you may have to use electronic enclosures in your home or office. This is besides the preventive measures that have already been taken by the manufacturer to ensure the appliance, machine, or gadget is safe for use.
The wide application of electrical steel and increasing demand will see the market size and market value run into tens of billions of dollars in the near future. Key electrical steel suppliers in the US and globally must ensure that they meet this demand by increasing their production. As consumers continue to demand and prefer to use smart devices and home appliances, the popularity of electrical steel will continue to rise.